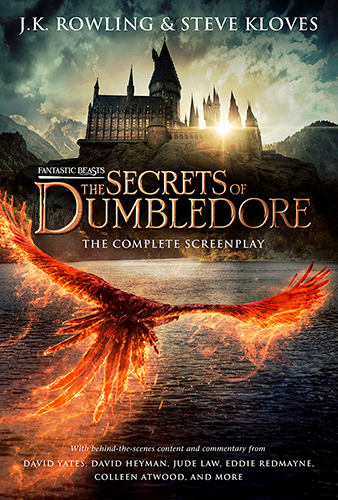 The cover design for Fantastic Beasts: The Secrets of Dumbledore – The Complete Screenplay, written by J.K. Rowling and Steve Kloves, has been revealed.
On the 19 July, the perfect accompaniment to the third Fantastic Beasts film is set to be published globally. The English language publishers are Little, Brown (U.K.), Scholastic (U.S. and Canada), and Pottermore Publishing (eBook).
The cover features the magnificent Hogwarts castle, framed by the setting sun and gliding over the lake is a majestic and fiery phoenix, signifying Dumbledore himself.
In the official screenplay, readers can explore every scene of the complete original script, and go beyond it with special features including behind-the-scenes content and commentary. Fans can read about director David Yates' vision for the film in his foreword, and illuminating insights from producer David Heyman and key cast members including Eddie Redmayne and Jude Law.
The book is also enhanced with behind-the-scenes content from the multi-award-winning production design team, including costume designer Colleen Atwood, graphic design studio MinaLima and others.
Visit WizardingWorld.com for all the latest news and updates about Fantastic Beasts: The Secrets of Dumbledore.