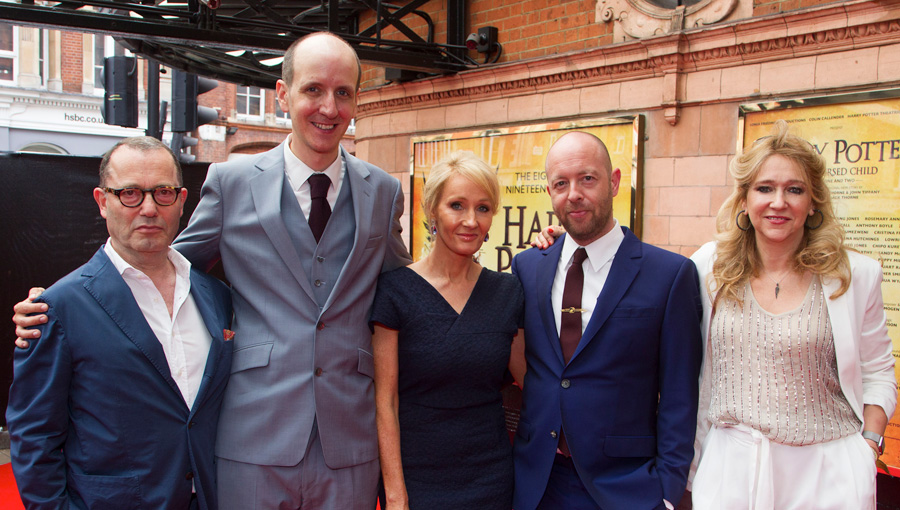 L to R:  Colin Callender, Jack Thorne, J.K. Rowling, John Tiffany, Sonia Friedman. Image © Dan Wooller

Harry Potter and the Cursed Child, the stage play based on an original story by J.K.Rowling, Jack Thorne and John Tiffany, has won the Best Play at the Evening Standard Theatre Awards, whilst the production was nominated for eleven What'sOnStage theatre awards – more than any other production.
The Evening Standard Theatre Award for Best Play was collected on 14th November 2016 by John Tiffany and Jack Thorne, who told Pottermore:
"This play was made with blood, sweat and love. Working on this show has been the greatest of things – and I know John, Jo and I could not have asked for better people to work with. The Cursed Child world is one of technical genius, acting greatness and producing prowess. This [award] is a cherry on top of a really elaborate, sugary, spicy, wonderful cake."
Lead actress Noma Dumezweni collected the award with John and Jack on behalf of J.K. Rowling, reading out a short message from Jo: "I am incredibly proud of Harry Potter and the Cursed Child, but Jack Thorne and John Tiffany must take all credit for shaping and crafting it. My endless thanks to them."
The production has also received no fewer than eleven nominations ahead of next year's WhatsOnStage Awards.  Harry Potter and the Cursed Child Parts One and Two is up for Best Play, while five of its cast members have also been shortlisted.  Other category nominations include Best Direction, Best Costumes, and Best Set Design. The annual awards, which are voted for by the public, will be announced on 19th February 2017.