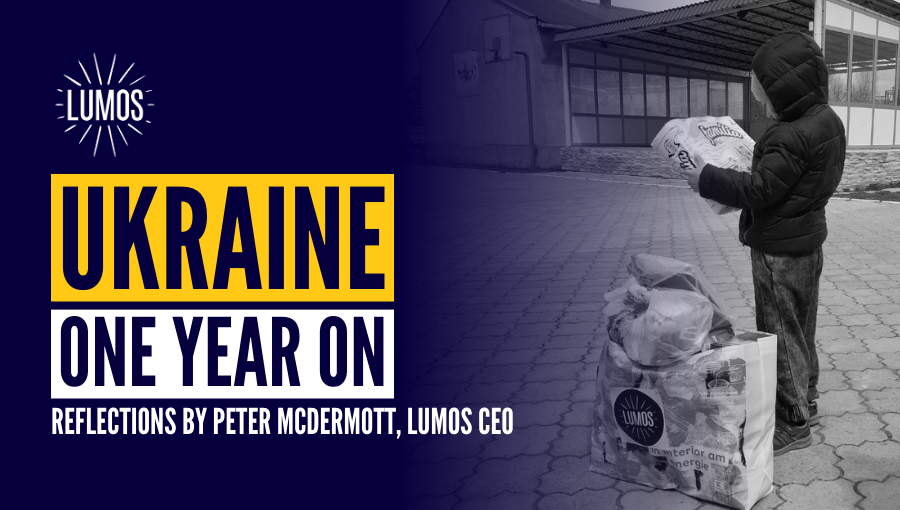 A year on since the war in Ukraine began, Peter McDermott, CEO of J.K. Rowling's international children's charity Lumos, reflects on some of their achievements and challenges of the last 12 months, and considers how to adapt their work going forward to best serve the people of Ukraine, and to further their mission to fight for every child's right to a family – even in the most difficult of circumstances.
Although Lumos is not a humanitarian agency in the strictest sense, as soon as the war began, the charity immediately pivoted to where the need was greatest. In the simplest terms, children and their families needed food, medical and hygiene items. And as many institutions were rapidly evacuated, families needed urgent support.
Thanks to the generous support of donors, and a hugely successful public fundraising appeal, in 2022 Lumos was able to deliver:
Humanitarian aid to 13,400 of the most vulnerable children
Educational kits to 7,000 children
Educational equipment and materials to 28 Inclusive Resource Centres for children with special needs.
30 tonnes of fuel for the transportation of children with disabilities, foster families and internally displaced families.
Providing mental health support to children and their carers immediately became a top priority.  The charity delivered trauma training to practitioners across all regions of Ukraine. Through this training, 25,900 psycho-social support sessions have been delivered across the country to children and their carers.
Moving forward, Lumos will continue to protect the most vulnerable children, with a priority focus on children who are at risk of entering the residential childcare system, particularly those evacuated from residential institutions at the beginning of the war and now living with families (whether birth or foster); children with disabilities, and the many children who have been displaced.
This is an opportunity to reimagine a Ukraine where children are not trapped in orphanages, but where families and communities have the resources and services they need to take care of children where they belong – at home. 
Extracted from Ukraine: One Year On, Reflections by Peter McDermott, Lumos CEO.    
The blog can be read in full here.