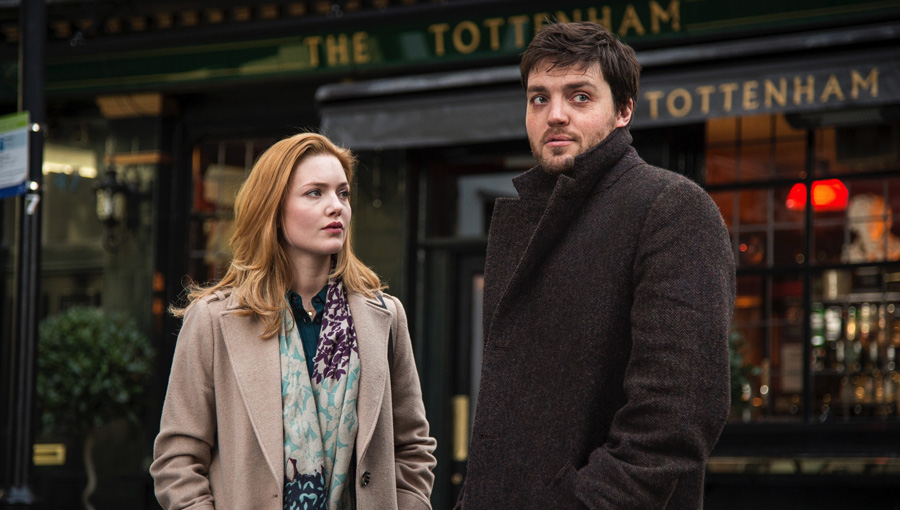 Holliday Grainger and Tom Burke on set  © The Cuckoo's Calling Ltd   Photographer: Steffan Hill
Filming is now under way for the BBC One TV adaptation of Robert Galbraith's Cormoran Strike series.  British actor Tom Burke will star as war veteran turned private detective Cormoran Strike, with Holliday Grainger playing his ever-enthusiastic assistant Robin Ellacott.
The Strike Series, which will air on BBC One, is based on J.K. Rowling's bestselling crime novels, written under the pseudonym Robert Galbraith: The Cuckoo's Calling, The Silkworm, and Career Of Evil.
"I'm overjoyed to be immersing myself in the role of Cormoran Strike who is as complex as he is larger than life," says Burke. "I know I'm joining an extraordinary team of people on a series that for me is peppered with moments of real emotional depth and meticulously grounded in the page-turning momentum of these novels. Cormoran's world is rich and raw."
"I'm thrilled to be joining the talented creative team behind 'The Strike Series', especially with the role of Robin Ellacott," says Grainger. "Her grounded strength and intelligence is going to be a joy to explore. I can't wait to dive straight into the wit and grit of Strike's cannily well observed London."