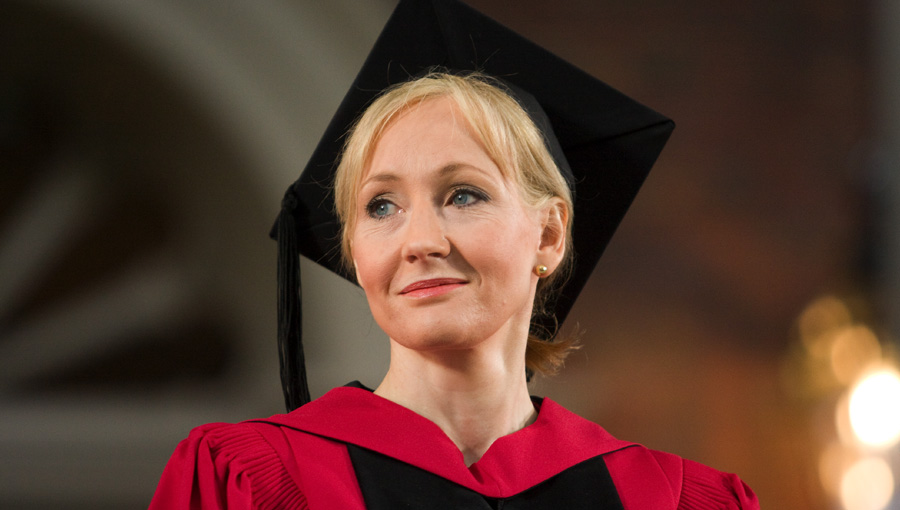 Image © Harvard Public Affairs & Communications. Photographer: Jon Chase/Harvard Staff Photographer
In June 2008, J.K. Rowling delivered the Commencement Address at the Annual Meeting of the Harvard Alumni Association. Her speech was titled, 'The Fringe Benefits of Failure and the Importance of Imagination.'
She spoke of lessons learned from her own discoveries – of personal failure "on an epic scale," – and quoted Plutarch, saying, "What we achieve inwardly will change outer reality."
Speaking to an attentive crowd, J.K. Rowling was forthright with her audience, about the nerves she'd felt prior to giving the Harvard Commencement Address:
"Now all I have to do is take deep breaths, squint at the red banners and convince myself that I am at the world's largest Gryffindor reunion."
She spoke of the benefits of failure and the crucial importance of imagination; pressing home the validity of one in realising ambition, and the consequence of pushing the boundaries of experience with the other.
"You might never fail on the scale I did, but some failure in life is inevitable. It is impossible to live without failing at something, unless you live so cautiously that you might as well not have lived at all – in which case, you fail by default. Failure gave me an inner security that I had never attained by passing examinations. Failure taught me things about myself that I could have learned no other way. I discovered that I had a strong will, and more discipline than I had suspected; I also found out that I had friends whose value was truly above the price of rubies.
"The knowledge that you have emerged wiser and stronger from setbacks means that you are, ever after, secure in your ability to survive. You will never truly know yourself, or the strength of your relationships, until both have been tested by adversity. Such knowledge is a true gift, for all that it is painfully won, and it has been worth more than any qualification I ever earned."
Her speech ended,
"We do not need magic to change the world, we carry all the power we need inside ourselves already: we have the power to imagine better…"
The speech is available to watch on Harvard University's Youtube channel, here.