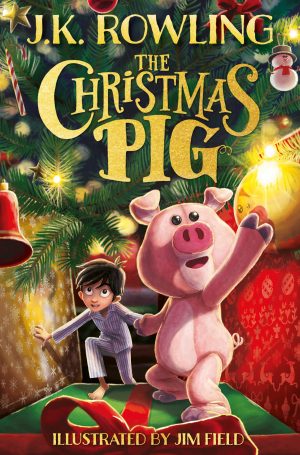 The cover design for J.K. Rowling's new book for children, The Christmas Pig, has been revealed! Award-winning illustrator, character-designer and animation director Jim Field has produced a stunning illustration for the cover as well as nine black and white spreads and design features for the interior of the book.
J.K. Rowling commented: 'Jim's illustrations are simply perfect. It really is as though he got inside my head and drew what he saw there! I gasped out loud when I saw one particular illustration (I can't say which it is without giving spoilers), because it was such a perfect representation of one of my favourite scenes.'
Jim Field said: 'It was ever so slightly daunting when I thought about the number of people who are going to see this cover around the world… No pressure, Jim! Brilliantly, we all agreed on the cover design from the outset, so that allowed me plenty of time to get all the little details right. I wanted to create something filmic, timeless, that captures the excitement of J.K. Rowling's incredible story and the wonder of Christmas, where the adventure begins. It is really a dream project and I'm so chuffed to be part of it.'
The Christmas Pig will be simultaneously published on 12th October 2021 in the UK, Australia, New Zealand, Ireland and India by Hachette Children's Group, in the US and Canada by Scholastic, and in thirty-five translated languages by other publishers making it a truly global publication.  It will also be simultaneously published as an audiobook by Audible in English, German, French, Italian, Latin American Spanish, Castilian Spanish, and Japanese.  Jim Field's illustrations will feature on the covers of all editions.